Cabin Rentals in Helen, GA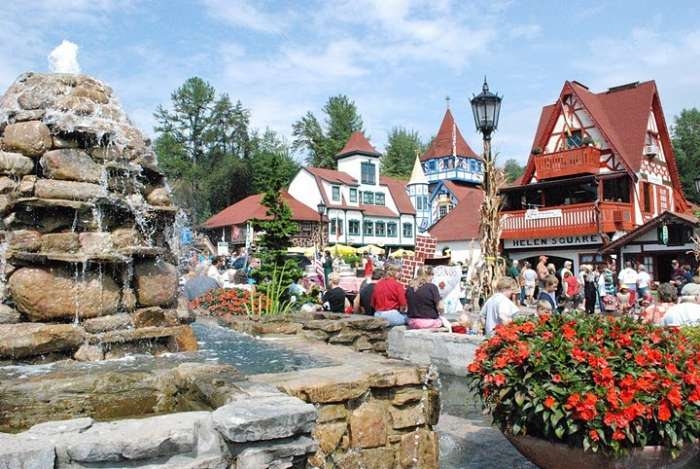 Within the quaint German town of Helen, Georgia and the surrounding back-country is an exquisite cabin rental and lodging option for families, pets, and business groups.
Cabin Rentals of Helen has a collection of vacation homes, cabins, golf resort cabins, and vacation spots that are located around downtown Helen, Georgia, and extend to the outskirts of Sautee Nacoochee, Lake Burton and beyond with secluded, river, lake and spectacular Georgia mountain view cabins.
These individually owned and warmly decorated cabins and vacation homes provide the perfect setting for family vacations and group meetings alike in the Georgia area. Sumptuously furnished, fully-equipped, meticulously maintained, Cabin Rentals of Helen, Sautee & Lake Burton's vacation properties are sure to make you feel at home during your next vacation to Helen, Georgia!
---
The Possibilities Are Endless!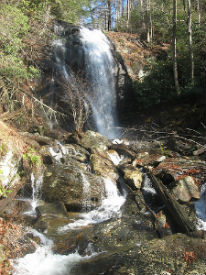 Every season in north Georgia is a favorite for everyone. Spring brings the return of wildflowers, river canoeing, whitewater streams, exuberant waterfalls, and wildlife emerging from winter dens. You may even get lucky and spot a few black bears awoken from hibernation and newborn whitetail fawns!
The summer season is a scene like no other. Families and couples explore the streets and trails, and the river runs wild with tubers cooling off. Downtown and the forests alike are a constant flow of visitors enjoying endless food and lovely weather.
Fall attracts visitors who enjoy Oktoberfest downtown and the explosion of color that appears during this time. People from all over the world travel to marvel at the truly magical feel of north Georgia during the autumn changes.

And to cap it all off, winter brings the chill of the mountains and the occasional beautiful blanket of snow on the trees. Helen is still buzzing despite the cold during the Christmas and New Year's holidays!
Seasons in Helen


Imagine walking through the seasons of Helen. This unique alpine village nestled in the mountains of Northeast Georgia has so much to offer in every season.
Seasons in Northeast Georgia are distinct and each has its own flavor! Spring abounds with new life, dogwoods blooming in the forests, creeks and rivers full from the melting snow of the winter. A perfect time for hiking in our national forests, fishing in the clear, fresh waters of the Chattahoochee or visiting one of our many historic sites in the area. The Helen area is a photographer's dream, Anna Ruby Falls, the Nacoochee Indian Mound, the historic Hardman House and the quaint arty atmosphere of the Sautee Village.
As spring changes into summer and school has closed its doors for a few months, families come to Helen to relax and kick back to our slower, simpler lifestyle. Imagine lazily tubing down the cool waters of the Chattahoochee on a hot summer day or watching the kids laugh with delight at the Helen Water Park. For the older generations, stroll hand in hand through Helen's quaint streets and alleys, find a bench and enjoy an ice-cream or ice cold soda. For lunch explore many of the different tastes of Helen, sample authentic German fare, or try some delicious southern barbecue. There is always something to do in Alpine Helen. Try a game of mini golf, or venture further afield and enjoy a golf game at Innsbruck or horseback riding at one of the area stables.
Fall is one of the most beautiful seasons in Helen. The air is crisp, woodsmoke scents the air and the changing leaves are bright with autumn colors. Hike to one of the many area waterfalls or visit hiking trails in Smithgall Woods or Unicoi State Park. Oktoberfest is Helen's showcase event of the year. Listen to old time Bavarian music, dance, enjoy some tasty German food and a couple of beers or other choice of beverage.
For a Christmas to remember bring the whole family to Alpine Helen. Enjoy Christmas shopping for unique gifts, stop for a break and enjoy a cup of hot chocolate or coffee at Hofer's German themed bakery and sink your teeth into a delicious European pastry. Visit the unique Betty's Country Store and buy gifts and supplies for your cabin stay. Don't forget to pick up some firewood for your cozy evening by the fire at your very own mountain cabin.

Spring in Helen



The snow has melted, the dogwoods are blooming and it's time for a spring visit to Helen! Get out your hiking boots and come spend a weekend hiking some of the most beautiful hiking trails in Georgia. Dukes Creek Falls and Raven Cliffs hiking trails are only minutes from Helen.
Or visit Smithgall Woods, a beautiful North Georgia Park as well as being home to one of North Georiga's premier trout streams. Or take a hike to historic Martin's mine and learn about the area's gold mining history.
Helen has so much to see and do and spring time is the perfect time to explore the area. Visit the historic Nora Mill an operational grist mill built in 1876 on the Chattahoochee River, feed the trout off the deck or buy some of their delicious grits or cornmeal. Their country store is a great place to find gifts for the folks back home.
If history delights you visit the Hardman House and farm within walking distance of Nora Mill. Across the road from the Hardman House is the most photographed site in Georgia, the Nacoochee Indian Mound.
Springtime is the perfect time to take a driving tour through the stunning scenery of the Sautee and Nacoochee Valleys. Visit the historic Sautee store and if time allows drive to the Stovall Covered Bridge one of the last covered bridges in the area.
Horse back riding is a great way to get out and enjoy the beautiful mountain area surrounding Helen. Visit one of the area's stables or try zip lining at Sunburst Stables.

Summer in Helen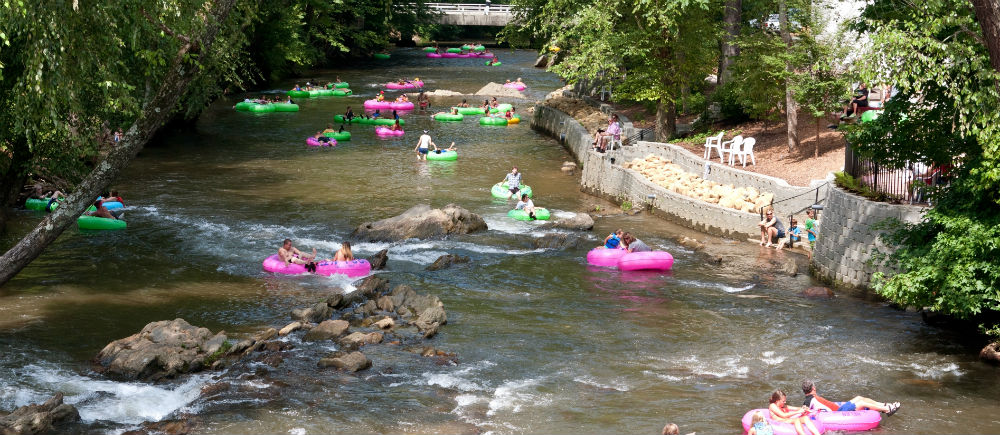 School's out let the fun begin! Kick back and float down the "Hooch" the Chattahoochee River. Tubing is one of Helen's top summer activities.
After a relaxing float down the river grab a bite of lunch at one of Helen's many restaurants, choose from authentic German fare at Bodensee or Hofer's Bakery, Helen has tastes to delight any appetite, from barbecue to delicious steaks.
Try an afternoon of mini golf at one of Helen's "Alpine" golf courses or head over to Innsbruck and enjoy a round of golf on their challenging course.
Helen has so many ways to enjoy a summer afternoon. Stroll leisurely around the downtown area, or take a carriage ride, visit some of Helen's many unique stores, take an ice-cream break or indulge in a delicious funnel cake.
Venture further afield and visit Anna Ruby Falls beautiful waterfall close to Unicoi State Park.
Unicoi State Park is a short ten minute drive north of Helen with a beautiful lake to enjoy, swimming, fishing, canoe rentals and hiking.



Lake Burton, Rabun, and Seed - Summer Fun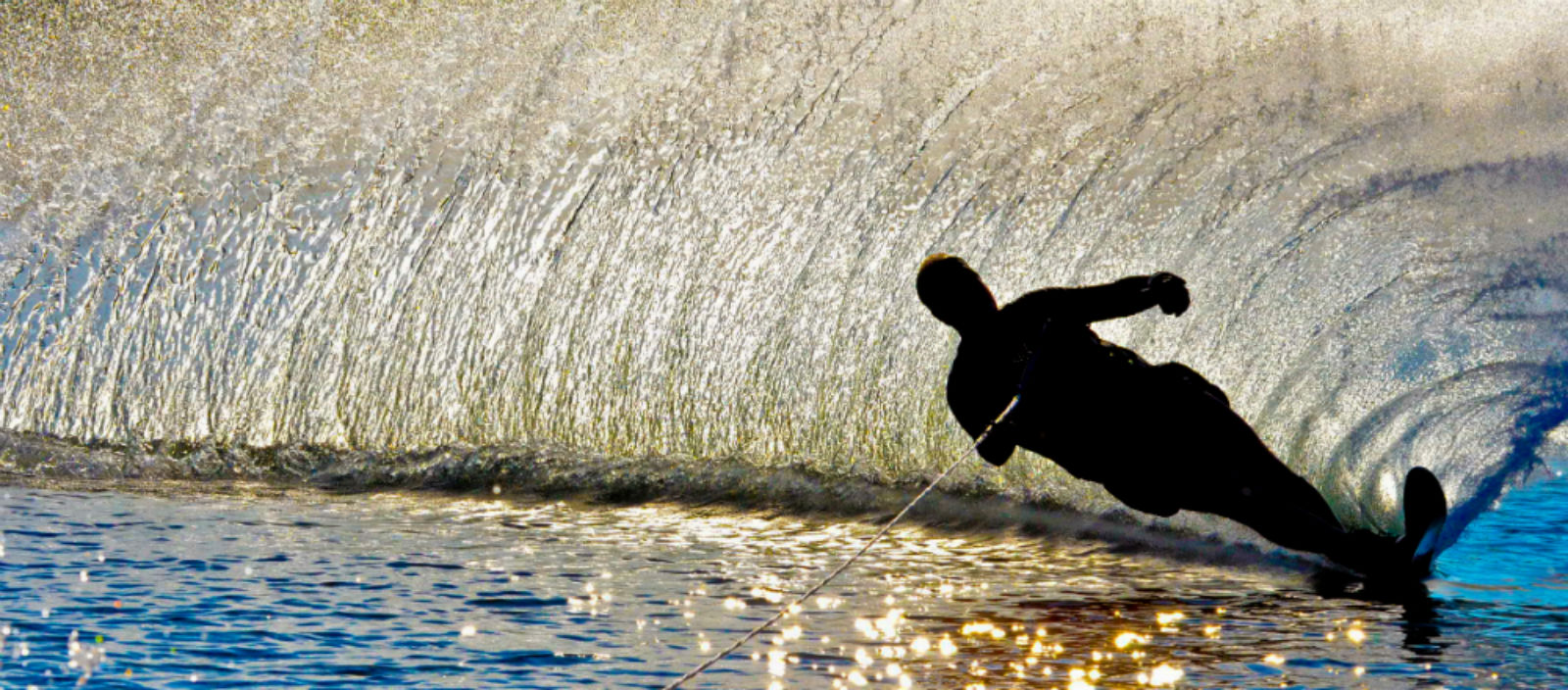 Northeast Georgia has some of the most beautiful lakes in the country. Lakes Burton, Rabun and Seed offer numerous activities for the whole family. From fishing, boating, water skiing and jet skiing you will find no shortage of activities. With 65 acres of shoreline Lake Burton has numerous coves to explore and enjoy. Visit Moccasin Creek Fish Hatchery on Lake Burton and learn all there is to know about mountain trout, or explore hiking trails in the area. For the photographer the lake area offers stunning scenery year round.
Fall in Helen



Imagine Fall in the Northeast Georgia Mountains! Spend a weekend or a week in one of our cozy cabins nestled in the forest's beautiful autumn colors. Smell the scent of wood smoke drifting through the trees.
Fall is Oktoberfest in Helen. A must see for visitors who have not been to Helen in the fall. Spend the evenings with friends and family eating German themed foods and drinking beer and listening to the sounds of live music played on accordions originating from the "old country".
This is the time of year when festivals abound, craft fairs and live music. So much for the whole family to enjoy. Hike some of our many mountain trails, kicking leaves along the way. Make sure to visit one of the area waterfalls and take in the breath taking scenery of Anna Ruby Falls in autumn colors. Take a drive through the beautiful Sautee and Nacoochee valleys and enjoy the splendor of the autumn colors or enjoy horseback riding at one of the area stables.
Fall is the time for the Helen areas Wine Festival celebrations. Visit one of the area's many wineries, sample wines and breathe in the crisp mountain air.
Winter and Christmas In Helen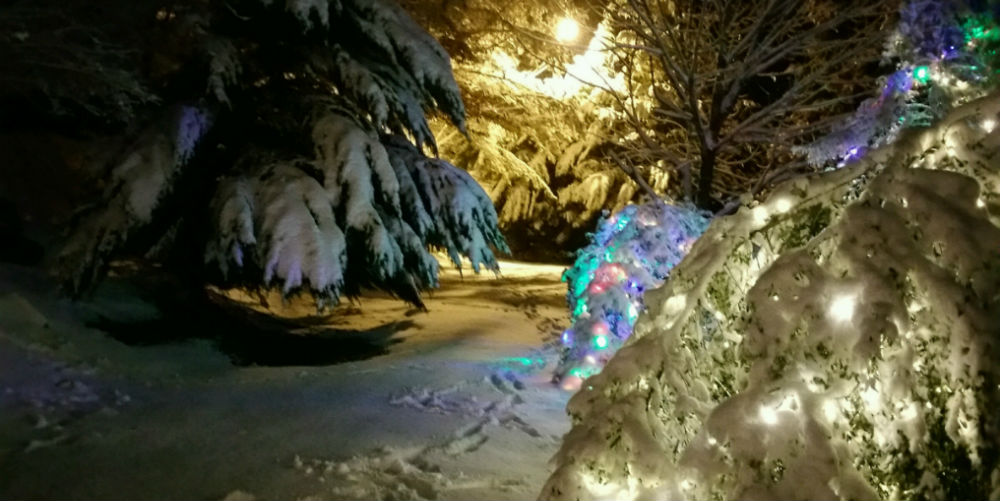 Walking in a "Winter Wonderland". Imagine Christmas in Helen, sparkling Christmas lights, Nutcrackers on the corners, carriage rides, folks bundled up like eskimos! Take a break from the ordinary. Spend Christmas with us! Come watch our local Christmas parade. Enjoy a cup of hot chocolate and something delicious from Hofer's bakery or have lunch or dinner at one of our local restaurants.
Our cabins have cozy fireplaces, snuggle up under a blanket and watch the flames as they dance in the candlelight and enjoy a glass of wine. Gather with the family around the fireplace, play a board game and pop some popcorn or watch a favorite movie. The snow may even be falling outside.
Don't forget to do some Christmas shopping while you're in Helen at one of our many unique and one of a kind retail stores. Purchase some candy at Hansel & Gretel's Candy Store or shop in one of our Antique Stores or Christmas store.
Helen has shopping to delight and excite young and old.
Year-Round Office Hours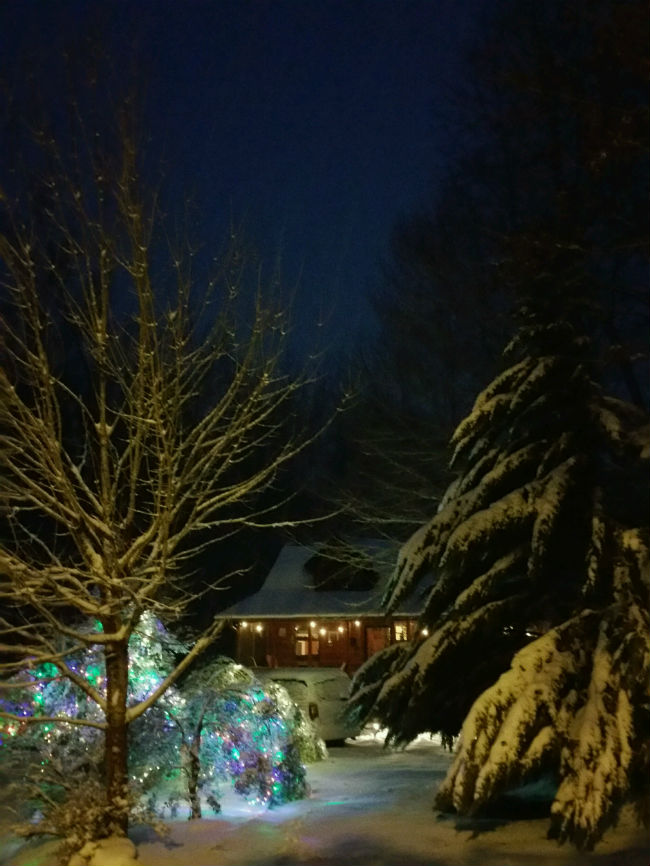 Tuesday-Friday: 9 am - 7 pm
Saturday, Sunday & Monday: 10 am - 6 pm
24/7 online reservations with discounts!
Open 7 days per week - Booking Agent - Available until 7 PM
Reservations by phone can be made any time before 7 pm.
Any after-hours inquiries can be left as a voicemail or emailed to [email protected]
After hours emergency calls taken until 11pm.