Description
This is a new listing. Listing Details are under construction and will be coming soon!!! Book Now!!!
The First 25 Events to Book will recieve this Introductory Pricing!!
Cabin Rentals of Helen is proud to present Bigfoot Lodge, northeast Georgia's newest premier 7000 Square Feet event space. This newly remodeled, multifaceted venue (formerly known as Black Bear Lodge - Honeybrook Catering) is conveniently located on Helen Highway only minutes from downtown Helen and Cleveland, Georgia. Bigfoot Lodge is a versatile space that can be tailored to accommodate any type of event including company retreats, church trips, weddings, receptions, rehearsal dinners, family reunions and more. The property's numerous amenities include: a cozy outdoor setting, spacious event hall, commercial grade appliances for warming and catering setups, dining room with seating for 50, multiple bars, theater room, a screened-in outdoor deck with BBQ area an additional seating, and new suites featuring 4 bedrooms, 4 bathrooms, Bridal Suite with salon chair and makeup mirrors, Man Cave with 86 inch TV, poker table, fully-equipped warming kitchens, dining area, and more!
The upper level lodging can sleep up to 9 Guests and the mancave 1 Guest, the lower level Event Center can occupy up to 50 guests for events.
Call a booking agent at (706) 878-3535 for inquiries.
New Listing Introductory Pricing: 3 Day Event only $4999.00 plus fees and taxes.
For Special Touches, such as catering, florist, music, bar, photography setup ect. Please contact
[email protected]
Map
Sleeping Arrangement
Master Suite (Upper Level)
1 Queen
Guest Room 1 (Upper Level)
1 Queen
Guest Room 2 (Upper Level)
1 Queen, 1 Twin
Bedroom 4 (Man Cave)
1 Twin
Bedroom 5 (Bridal Suite)
2 Twins
Amenities
MAIN ENTRY LEVEL
CATERING PREP SET-UP AREA #1 | (Exlusive use by catering vendors)
Catering Vendors-Temporary cold and warming areas for prepared foods.
---
Delfield self-contained compact undercounter refrigerator
True undercounter refrigerator
Standup True Freezer
Standup U-Star refrigerator
Metro C5 Food Warmer
FWE Food Warmer
CATERING PREP SET-UP AREA #2 | (Exlusive use by catering vendors)
Staging for food trays and for proper display of foods.
---
Stainless Steel Uline Prep Tables (2)
Stainless Steel Rack for tray storage
Stainless Steel (3) compartment Sink
This area is perfect for setting up charcuterie boards, cheese trays for venue
STORAGE: (Exclusive use by Bigfoot Lodge)
---
Party Supplies
Party Favors
Paper Products-Lockable Cabinets in Hallway
WARMING KITCHEN #1
Primarily used for set up of appetizers and finger foods for pre-events
---
Double Turbo Air Maximum Cooler
Stainless Steel Table w/storage shelf & LG Microwave
TurboChef Sota Commerical Microwave Oven w/ Stainless Steel Table
Stainless Steel Table for catering setup w/ Shelf
Stainless Steel Vulcan Double Oven for warming
Stainless Steel (3) compartment Sink
Granite Counter Tops

ADJOINING BAR AND BEVERAGE AREA
This area if perfect for serving wines and beverages, along with finger foods and appetizers from the buffet server.
---
58 INCH LG TV
Avantco Ice Machine
Stainless Steel Table w/ shelf w/Cup Dispenser
Stainless Steel warming buffet server display (4) compartment by Serve Well
Standup Beverage Cooler – behind the bar area
Lounge Tiled Top Bar with seating for (8) swivel bar stools
Pub Table with seating for (4) behind bar area
Pub and Food Table with seating for (4) and food display, located in the middle of the bar area
10 ft granite top bar with (8) under counter bar stools, great area for food presentation
2 Tap Kegerator
FAMILY DINING AREA/CONFERENCE ROOM
KNOWN AS "TUKFOREVA LOUNGE" | CUSTOM ARTWORK BY CARL HATCHER
---
This project started with hidden Sasquatches "Bigfoots" throughout the scenes. As you know everyone is looking for Bigfoot. A fun game for your guests to locate the number Sasquatches in the artwork. Scenes are of the Helen area, tubing, golfing, Anna Ruby Falls and much more. To date no one has found ALL. You will have to try this; sorry the count cannot be disclosed. Karl really got into this project and finally said, Gosh I am naming my Art,
"Tukforeva" so this led to the Lounge Name, "Tukforeva Lounge"
Karl was having such a fun time he had to finally find a stopping point, I bet we will find more artwork soon.

65 Inch TV over fireplace for viewing or music
Gas Fireplace
Podium for Conference Use with 65 Inch TV next to the Podium for training
Whiskey Barrell Tables (7) w/ (4) Stools
Whiskey Barrell Center Table w/ (6) Stools
Total Seating in the "Tukforeva Lounge" 34
WOMEN'S POWDER ROOM
---
Maitland Smith Console Table
60 Inch Single Bathroom Vanity w/ stone countertop
MEN'S ROOM
---
Granite Top Single Vanity
EXTENDED DINING AREA WITH CONNECTING 4 PANEL SLIDING GLASS DOOR
---
Large Stacked Stone Fireplace w/ Gas Logs w/ 55 Inch Vizio TV
Custom Carved Cherry Mantle with scenes of bird hunting
Marble Top Bar half-moon shape BAR for food, flowers, and displays w/ a slider window to the Lounge
Mini Split Air Conditioner supplemental air
Italian Bookcase and or Food Display Cabinet
Oversized Dining Room Table with seating for (8)
Oversized Counter Height Dining Table with seating for (6) with Matching Buffet Server
(2) Sets of Bar Tables with (3) Stools
Signed Artwork
Custom Designed Bigfoot Lodge Industrial Light hanging over dining table
Right side facing, glass doors lead out to a Marble Topped Bar
Left side facing, glass doors leading out to the enclosed-screened porch for addition dining
Total Seating Extended Dining Area 20
DOUBLE GLASS DOORS ON RIGHT SIDE | LEAD OUT TO MARBLE TOP BAR AND BACK DECK AREA
---
Outdoor lounge area seats (4) High End Steel Patio Set
14-Foot-Long Granite Top Bar w/ 3 Counter Height Swivel Stools and 6 Bar Height Stools non-swivel
Whiskey Barrell Stoned Tabletops (5) w/ 4 stools providing seating for (20)
Outdoor Gas Barbecue Covered Area
DOUBLE GLASS DOORS ON LEFT SIDE | LEAD OUT TO OUTDOOR SCREENED PORCH AREA AND WET BAR
---
Wet bar with single sink
Undercounter-Hoshizaki Ice Maker
Over the Bar 55 Inch LG TV
Double Doors True Refrigerator
Built in Bar Area for seating for (4) custom made bar stools
Large Aspen Wood Dining Table with Bench and Chairs, seating for (10)
Custom Designed Barn Doors and Custom Carved Screen Door
Large High-end ceiling fan, by Big Ass Fans
Liquor-Berverage Display Cabinet on Casters
BARBEQUE ZONE
LEADING OFF OF THE SCREENED PORCH AREA YOU WILL FIND THE BARBEQUE ZONE/CREEKSIDE BARBEQUING
---
Left side of the Barbecue zone is an enclosed, ventilated, area for your outdoor cooking needs
36" Culinary Omnivore Griddle – Liquid Propane Flat Griddle
X-Large Big Green Egg with Covered Top
Pit Boss, Pro Series 1529 Sq In. Stainless Steel Pellet Smoker
Pit Boss, Pro 1598 Sq In. Black Pellet Grill
Pellet Buckets (2) for pellets
Stainless Steel Table Prep Table
Tray Cart on Wheels w/ Serving Trays
Ventilation Fan Above Grills with additional plugs and outdoor lighting
Large Trash Container (Additional Dumpster Across the Hwy)
BACK DINING AND VENUE AREA | BARBEQUE ZONE CREEKSIDE FACING
YOU WILL FIND THE PERFECT PLACE TO SOCIALIZE AND RELAX. THE ENTIRE BACK DINING AND VENUE AREA IS CONSTRUCTED OF STAMPED CONCRETE ACCENTED WITH STONEWORK
---
Covered outdoor seating with ceiling fan
Erwin and Son's Outdoor Patio Weave Set, Sofa and (2) chairs
Dining table for (2) and or food display
Round Propane Gas Fireplace
Uncovered area to the right side, you will find Outside Additional Dining Seating
---
Round outdoor firepit table with seating for (6) Counter Height Barstools
Outdoor 11 ft umbrella solar powered
Counter Height Table and Stools, metal with seating for (6) 2 sets, proving seating for 12
Concrete checker game tables (2) Sets
EXTRAVAGANT 8 FOOT (3-TIER) WATER FOUNTAIN AND STONED WEDDING RING AREA WITH LED LIGHTING
---
Wedding Ring can be used for the Wedding Ceremony, DJ-Music and or just for lounging
Inside the wedding ring 2 outdoor patio chairs w/ Ottoman and cushions
Outdoor 11 ft umbrella solar powered
TREE HOUSE VIEWING DECK | APPROXIMATELY 300 SQUARE FEET OF OUTDOOR SPACE-TREE HOUSE IS USED FOR CUSHION STORAGE AND OUTDOOR COOLERS. LOTS OF OUTDOOR LIGHTING FOR YOUR ENJOYMENT AND SAFETY.
---
Outdoor Wood Burning Fireplace w/ Adirondack chairs, Seating for (6)
Continue up to the first deck, Outdoor Dining Table and Chairs dining for (4)
Outdoor 11 ft umbrella solar powered
Double Chaise Lounge with Cushion (2) w/ Cushion
Stepdown to lower deck, Counter Height Table w/ (2) Adirondack Chairs and (1) Stool
Step-up to upper deck, Outdoor Bar with (2) Adirondack Chairs and (2) Bar Stools
Outdoor 42 Inch TV for outdoor use at the treehouse
Additional seating for (21) Guests
---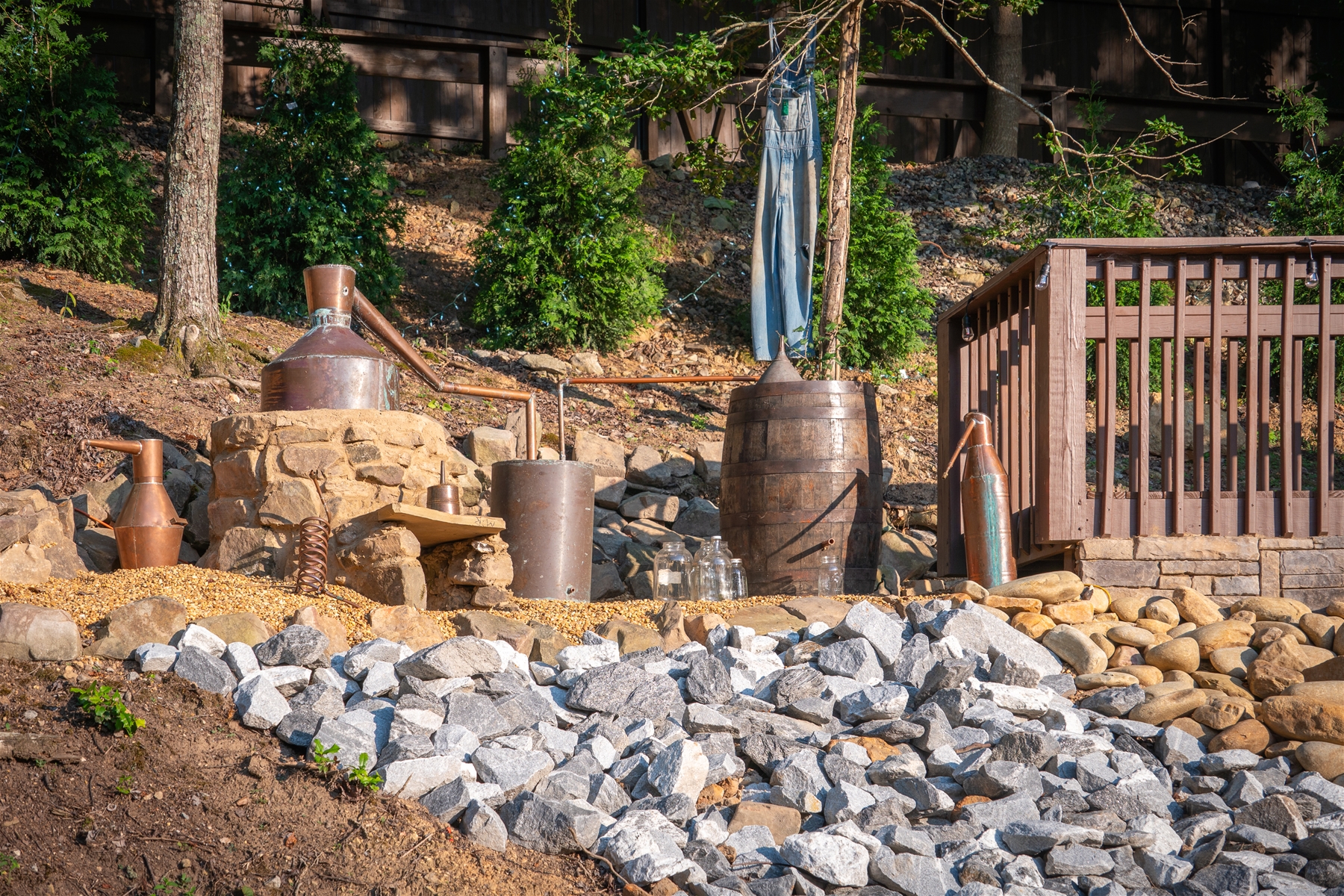 WE HAVE SAVED THE BEST FOR LAST!!!
Overlooking the treehouse decks, you will observe an original MOONSHINE STILL. This still is non-operational and is a sawdered and secured replica, but the setting portrays a "Back-in-the-Days" of the Georgia Mountains when Popcorn Sutton was well known as the "Appalachian Moonshiner born in the North Carolina Area". This just goes to show what you will find here in the hills of Sautee Nacoochee, GA.
WARMING KITCHEN #2 AND GUEST QUARTERS | MAIN LEVEL

WARMING KITCHEN
---
Standup True Refrigerator
Granite Stone Single Sink
Double oven, On top convection microwave, Oven on the lower
Samsung Gas Range w/ Air Fry
Irish Pub Serving Buffet with Stoned Top
Granite Countertops
Lots of Cabinet Storage
Electric Wine Opener
65 INCH SAMSUNG TV
Peacock Artwork
ADJOINING BEVERAGE, DESSERT, AND COFFEE AREA | THIS IS THE PERFECT AREA TO DISPLAY DESSERTS, SERVE COFFEE AND TEA, AND SPECIALTY TRAYS ON THE LARGE TABLE
---
48 Inch Samsung TV
Commercial Coffee Grinder
Coffee Pot (Bunn)
Commercial Tea Brewer
LG Microwave
Granite Countertops with Cabinet Space
High-end Decorative Artwork
Commerical Cup Dispenser w/ custom made cabinet w/ casters
High Top Dining Table with seating for (6)
Manitowoc Commercial Ice Maker
LAUNDRY ROOM, VANITY AND BATH AREA | LOCATED DOWN THE HALLWAY
---
New LG Stackable Washer and Dryer Set – Linen Cleaning
MANCAVE, THEATER ROOM, GROOM'S ROOM
---
Oversized Sectional Sofa with the ability to sleep (1) person comfortably
86 Inch TV Samsung High-Definition w/ Sound Bar
Poker Table and High-End hanging leaded glass-stained light.
Irish Antique Game Cabinet with various games
Custom made Corn Hole Boards, labeled Big Foot Lodge
Custom made Whiskey Barrel Bar w/ (2) stools
Tastefully decorated with NASCAR Racing Collectors pieces.
Stainless Steel Bar Prep Table for drinks
Captain's Bar Chair
Frigidaire Refrigerator with Icemaker
Irish Pub Tables with seating for (4) game tables and or for food
Hall Tree for game storage
ADJOINING BATH WITH INDOOR JACUZZI TUB AND PRIVATE BATH WITH A BARN DOOR
UPSTAIRS GUEST QUARTERS (UPPER LEVEL)
BREAKFAST NOOK
---
Stairway Up, decoratively painted and desired and finished off with shiplap w/ Barn Door
Frigidaire Refrigerator/ Ice Maker
Over the range microwave
Glass top Electric Range Insert
Customed Designed Whiskey Barrell Sink
Coffee Pot - Brew
Blender
Supplies for Events
Table and Chairs for (4) w/ Chandelier
FAMILY ROOM GATHERING SPACE
---
Gas Log Fireplace accented with Granite Hearth
65 INCH SAMSUNG TV
Leather Sectional Sofa (White)
Leather Sectional Sofa (Gray)
Marble Coffee Table and End Tables w/ Lamps
Modern Decorative Lighting
Decorative Art and Décor and Window Treatments
UPPER VIEWING DECK | OVERLOOKS THE ENTIRE BACK VENUE
---
14" Granite Top Bar w/ 8 Stools
Overlooks Wedding Ring
Steps lead down to the lower outside deck and dining area
GUEST QUARTERS | COMES WITH THE UPSTAIRS GUEST/BRIDAL/GROOM ROOM
MASTER SUITE
---
Queen Bed
Large Dresser
Nightstand
48 Inch Samsung TV
Private EnSuite Bathroom
Custom designed tiled double shower with rain shower heads
Oil rubbed bronzed fixtures
Single Vanity
Mounted Hair Dryer
GUEST BEDROOM #1
---
Queen Bed Set with Nightstand, TV Stand and Chest
Private EnSuite Bathroom
Private Shower – Bath
Single Vanity
Mounted Hair Dryer
Custom Made Closet Display
58 INCH VIZIO TV
GUEST BEDROOM #2 ( GREAT FOR BRIDESMAID AREA)
---
Queen Bed
Shower – Bath is in the hallway next to this bedroom (Considered Private for this bedroom)
W/ Elegant Tiled Double Shower
Single Vanity
Mounted Hair Dryer
Custom Built-In Cabinets
Lazy Boy Single Sleeper Sofa Loveseat
38 INCH VIZIO TV
Artwork located in Hallway
GUEST BEDROOM #3 | BRIDAL ROOM
---
Queen Bed
Shower – Bath is in the hallway next to this bedroom (Considered Private for this bedroom)
W/ Elegant Tiled Double Shower
Single Vanity
Mounted Hair Dryer
Custom Built-In Cabinets
Lazy Boy Single Sleeper Sofa Loveseat
38 INCH VIZIO TV
Located in Hallway Artwork
Back Stairway Exits to the side of the building – Customed Painted
Calendar
Oct - 2023
S
M
T
W
T
F
S

1

2

3

4

5

6

7

8

9

10

11

12

13

14

15

16

17

18

19

20

21

22

23

24

25

26

27

28

29

30

31
Nov - 2023
S
M
T
W
T
F
S

1

2

3

4

5

6

7

8

9

10

11

12

13

14

15

16

17

18

19

20

21

22

23

24

25

26

27

28

29

30
Dec - 2023
S
M
T
W
T
F
S

1

2

3

4

5

6

7

8

9

10

11

12

13

14

15

16

17

18

19

20

21

22

23

24

25

26

27

28

29

30

31
Jan - 2024
S
M
T
W
T
F
S

1

2

3

4

5

6

7

8

9

10

11

12

13

14

15

16

17

18

19

20

21

22

23

24

25

26

27

28

29

30

31